Booth PML
Rustic Dairyland Antique Mall
12009 - 53rd Place ~ Kenosha
SW Corner of I-94 & Hwy 158 (52nd Street)
Up the stairs to the right, then right again at the top of the stairs,
Booth PML is on the inside corner as you make another right turn.
The booth was moved across the aisle from where it was.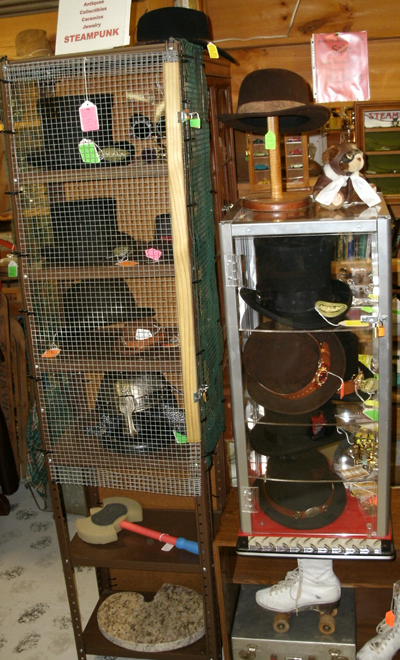 These are just some of the things available at Booth PML
A Great Place to shop BEFORE going to a
Renaissance Faire, Steampunk Event or Pirate Festival.
I have lots of Renaissance Faire-style clothes,
including a REAL LEATHER VAMPIRE-HUNTER COAT
& a Real Leather Reproduction Flight Jacket -
Perfect for STEAMPUNK!
I now have 100% Wool Felt Tophats & Derbies!
Perfect for Weddings, Formal Affairs & STEAMPUNK!
Come see me at "Swashbuckler/DaVinci Scientifica" at Bristol Renaissance Faire this summer!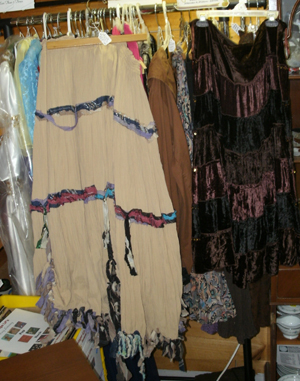 ~ Area Steampunk Events ~
For more info on area steampunk events & Kenosha Steampunk, go to: https://www.facebook.com/groups/KenoshaSteampunk/

~ Steampunk Mini-Events ~
First Saturday Every Month Through June 2014
Old Toys Live On, 7619 Sheridan Rd., Kenosha, 262-577-1696
I will be selling my Steampunk Stuff, and maybe some things made by other Kenosha Steampunk members.
Old Toys Live On sells vintage toys, new & used toys & Used Lego!!!
~ Kenosha Comic Book Expo ~
Sunday, February 16, 2014
10am - 3pm
Radisson Hotel & Conference Center
11800 - 108th Street, Pleasant Prairie, WI
Exit #347 Off I-94
Comic Books, Vintage Toys & My Steampunk Stuff
For more info, call Paul @ 262-705-2268 (24/7 cell/voicemail)
---
New Kenosha Steam Punk Group!
Come and join the fun or just find out what Steampunk is all about.

All ages welcome, the first few meetings will be for finding out
exactly how the group will operate.

Great for long-time Steampunkers, or first-timers
Meetings will be at Rockhead's Comics and Game Store
2328 Roosevelt Road, Kenosha - 262-657-5655
1st & 3rd Thursdays of every month.
Call me for info: 24/7 Cell 262-705-2268